Silver Tree Communications is, first and foremost, a marketing strategy firm. We start our work together by helping you and your organization's chief leaders to articulate your challenges and opportunities, and then align those forces with growth strategies that use marketing and communications as powerful levers.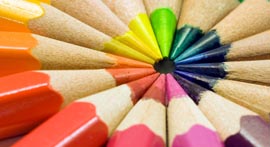 By the time we've begun to develop creative (direct mail, radio commercials, online campaigns, site signage -- you name it!), we have refined your hopes and needs into a solid business strategy that will fill the sales funnel in even the most competitive industries.
In many ways, Silver Tree Communications is not your typical "marketing agency." We won't try to wow you with storyboards or expensive ideas if they won't make a difference to your income statement. We don't do retainers. We don't compete with your in-house marketing team. We don't put 25 people on a project when two or three will do. We don't pitch you on our expertise, then assign your projects to junior consultants. We don't do anything we aren't willing to measure. And we don't do mediocre.
Speaking of "we," you should really know who we are. Silver Tree Communications includes a talented team of professionals, and is led by marketing strategist Kate Colbert. In most cases, our CEO partners with your CEO. It's a simple formula built on our belief that great marketing strategy must always be tied to organizational vision, and that marketing strategy is most successful when driven and supported by the leader of your brand.
We partner with owners and CEOs of small to mid-sized companies, as well as CMOs and marketing directors at large corporations, to help them take their businesses to new levels of sustainable profitability and success.
Our strategic services include:
Go-to-market strategies for companies, products and services
Brand audits
Market research (focus groups, market sizing, net promoter score measurement, brand awareness studies, and quantitative surveys)
Business consulting that connects marketing messages to sales conversion
Crisis communications consulting
Contact us today to get started on a strategy that could change the trajectory of your business.