Midwestern publishing company awards once-in-a-lifetime opportunity to deserving writer whose message can help the masses.
FOR IMMEDIATE RELEASE
KENOSHA, WI (October 30, 2017) ― Silver Tree Communications, LLC, has announced that its non-fiction book imprint Silver Tree Publishing has awarded a full contract to Charlotte-based writer and clean-living expert Jenn Baxter. This is the first book award of its kind at Silver Tree, and will begin a tradition of the company annually selecting one author and one manuscript to receive comprehensive book publishing services and book marketing at no cost to the author. The forthcoming book, Live a F.A.S.T. Life: How Stripping Down & Cleaning Up Gave Me My Life Back is due out in mid-December 2017.
"I couldn't be prouder to be associated with Jenn Baxter," said Silver Tree president and CEO Kate Colbert. "Offering our first-ever Silver Tree Publishing Book Award to Jenn is as exciting for us, I think, as it is for her. She's a fantastic writer and a genuinely kind person, and her manuscript hooked me from the first paragraph. By helping Jenn bring her book to market, we're doing more than just helping a great author fulfill a dream ― we're connecting countless readers to inspiring stories and practical tips that have the potential to make them healthier, happier and more fulfilled people. I have no doubt this book will appeal to a broad range of readers, regardless of their walks of life or the myriad reasons that are drawing them to a desire to 'strip down and clean up.'"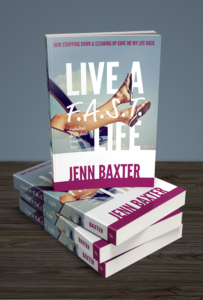 The premise of Live a F.A.S.T. Life is quite simple ― but it's also "fabulous, abundant and tiny." Jenn Baxter coined the term F.A.S.T. Life to convey the "fabulous, abundant, simple and tiny" approach to life that has helped her re-invent herself after a series of major traumas. After losing both parents, escaping an abusive relationship, and exiting a work environment that was toxic, Jenn found herself emotionally and physically depleted. Downsizing to a 160-square-foot tiny house on wheels was just the beginning of how she reclaimed her joy and her health.
"Jenn understands first-hand how debilitating life's problems can be," said Andrew M. Odom, author, speaker, influencer and an advance reader of the new book. "But through a set of life choices, including location, diet, consumerism, and faith, she has found a peace that truly passes understanding. Fortunately for us, she has decided to share her story and I, for one, felt so encouraged after reading it. I am sure you will as well."
Live a F.A.S.T. Life is an easy-to-read, inspiring memoir full of practical tips for those of us wanting to:
De-clutter our homes and our workspaces
Adopt a clean-eating lifestyle
Learn more about environmental toxins and how to make consumer choices that are better for our bodies
Let go of emotional baggage
Embrace spiritual abundance and get back to what really matters.
Jenn first became acquainted with Silver Tree Publishing through her book coach Cathy Fyock (http://www.cathyfyock.com/), who is also Silver Tree's acquisitions editor. In short order, Cathy and Kate knew that Jenn was a special author with a special book. "When I first met with Jenn, I knew that she was an extraordinary individual who had an important message to share," said Silver Tree acquisitions editor and book coach Cathy Fyock. "I'm excited that we're teaming with Jenn to make this book a reality."
Jenn Baxter is an accomplished author, speaker and freelance writer based in Charlotte, North Carolina. She has been published in numerous print and online publications and appears at tiny house festivals, healthy living festivals and private engagements across the country, speaking on the subjects of downsizing and minimalism, clean eating, healthy living, and spiritual health. She is a regular guest on the NBC morning show Charlotte Today on WCNC-TV and has also appeared as a guest on several tiny house-themed podcasts, including the Tiny House Podcast and Tiny House Canada.
In 2015, Jenn launched her website, Live a F.A.S.T. Life, based on her own experiences with clean living and downsizing into a 160-square-foot tiny house. She now teaches others how to make similar changes in their own lives through her online webinars and her e-course collection, De-Clutter, De-Tox, De-Stress.
"Being selected for the 2017 Silver Tree Book Award means the world to me," said Baxter. "I was inspired to write this book and share my story, along with the lessons I've learned, with other people because I know it can help them with their own struggles. There are so many people out there who feel the way I did ― sick, stressed and just plain tired of the routine we are all taught to live. They know there has to be more to life, but they don't quite know where to start to change it. And I understand, because I've been there! I hope to not only encourage others to change their lives through the story of my own journey, but to give them practical, friendly advice on how to do so too. I'm incredibly grateful to Kate Colbert, Cathy Fyock and all those who believe in me and believe in the power my book can have on others."
The new book will be released in paperback and Kindle editions in December. To learn more about Silver Tree Publishing, visit our publishing pages or www.PublishWithSilverTree.com. To learn more about Jenn Baxter and to pre-order the book, visit http://www.liveafastlife.com/.