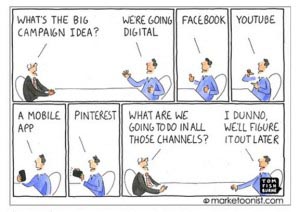 What's so funny about this cartoon is that it's not funny -- it's commonplace and it's deadly to the budget. In nearly every marketing department in every organization across every industry, conversations like this are taking place. Marketers know there are increasingly more channels at their disposal with customers waiting to be engaged, so they jump to the conclusion that simply "being" there will increase sales. Not exactly.
A channel is not a strategy. And not all channels are a conduit to your best customers. If your product is one that absolutely must be demonstrated to be understood, then a pithy little video on YouTube might ignite your sales. Or if you are United Airlines and you know that busy travelers need to check in to their flights while they are on the go, a mobile app makes good sense. And if you sell adorable clothing and products for children, then CPC ads on Facebook -- where all those children's moms are hanging out -- could be a smart investment. And if you offer anything that people are actively searching for on Google, Yahoo or Bing, you probably ought to focus your energies on SEO and paid search.
But don't fall into the trap of thinking that your product or service or corporate brand needs to be everywhere to be profitable. Some brands don't belong on Pinterest (heck, most brands probably don't belong on Pinterest), some customers aren't likely to Tweet in their lifetimes, and some keywords on paid search are simply too competitive and expensive for your company to gain a foothold.
Digital advertising and social media are tools. And tools are tactical. Before you can know what tools to put in your toolbox or how to use them, you must first be clear about your goals, objectives and strategies. Silver Tree can help. So next time your boss (or one of your colleagues or employees) says "We really need to develop an app" (or something equally non-sequitur and inane), give us a call and we'll give you some perspective.