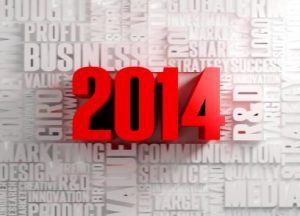 Farewell to 2013. It was a great year -- full of discovery and accomplishment for the clients and the team at Silver Tree Communications. So as we close out the year, we'd like to share what we've learned to help you get off to a great start in 2014.
Communications Resolutions to Improve Your Business Relationships and Your Business Results
1. Put your mailing address on your website and in your email signature block. "But I'm an independent consultant," you might say. "I have a home office, and I don't want people to know where I live." That's ridiculous. People don't care whether your office is in your home or in an executive park -- they just want to know where to send the mail. Put your address (and get a PO Box if that's more your speed) out there for your customers to find. It's not friendly to make people go sleuthing on WhitePages.com, and it's probably not helping you close more business either.
2. Update your blog (or start one!). Nothing improves search-engine optimization of a website like a regularly updated blog. And great SEO is cheaper than great advertising. Did you know that the more stale the content on your website becomes, the less often the browsers (like Google, Yahoo and Bing) will crawl your site? What happens is that a website that was showing up on page 1 for all the right key words last year has fallen from grace simply because you let it collect some proverbial dust. Plus, you're an expert at what you do and it's just good business to share your insights, tips and stories with your customers and prospective customers.
3. Be visible in the right networks. Spend just a few hours this January making sure your LinkedIn profile is a work of art. And does your company have a profile on LinkedIn? When is the last time you started a discussion there, or posted something relevant to your followers? What about Facebook? Silver Tree has clients whose most impactful source of business is their Facebook page. What are you waiting for? Chop, chop.
4. Have a plan, then stick to it. Develop a communications calendar for 2014. At Silver Tree, we're helping our clients plan their communications (from their email deployments to their direct mail to their web updates to their advertising) 12 months in advance. With an integrated plan, there's so much less scrambling on a day-to-day basis. Less employee burn-out. More relevance in your messaging to the marketplace. More income on your balance sheet.
5. Get the data! Put at least one meaningful research project onto your "to do" list for the 1st quarter. Stop letting your business be derailed by the kind of knowledge gaps that can be filled if you'd only take the time to ask the right questions. Our most savvy clients understand that the right survey instrument or focus groups can change the trajectory of their projects and their overall business. It's our experience at Silver Tree that nothing produces results faster and in such magnitude as marketing and strategy shifts that are spurred by insights from great market research. Looking for big ROI? Let us help you get it.
6. Trust your judgment, but verify it. Test your creative. Just because you think a headline or a billboard design is a "wow" doesn't mean that your customers will. Take the time to do some A/B testing of your creative from time to time. It keeps you sharper, helps you avoid becoming narrow-minded and arrogant, and gets you better business results.
7. Be human. Hand write your holiday thank-you notes this year. Don't you think people receive enough email already? In a world over-run with technology-based communications, a hand-written note can make a meaningful impression. To help you keep this resolution throughout the year, we recommend you hurry up and buy a few hundred Forever stamps before the price goes up (from 46 cents to 49 cents on January 26th).
8. Don't be outdated. Make sure the copyright date on your website says "2014" and not "2013" when the clock strikes midnight. Nothing says "We aren't contemporary or paying attention to our business" than a website that announces that no one has looked at in years. (By the way, your website code can be written such that the date updates itself each year. We'd be happy to show you how.)
9. Again, be human. At least once a day, pick up the phone when you are tempted to send another email. Phone conversations result in improved relationships and higher sales conversions than email. We believe the telephone is the most under-utilized piece of "social media" available to you. Pick up the phone.
10. Treat your database like your most prized possession. If you're like most companies, your customer database is full of holes and duplications, and you're leaving money on the table by not making it a priority to clean up the database. Some of our most meaningful projects at Silver Tree begin with database clean up -- appending email addresses and phone numbers to existing records, or segmenting customers into specific profiles. Your marketing and advertising can't succeed if you're sending it to the wrong people, at the wrong time, in the wrong place and in the wrong way. Again, data is the foundation for all good marketing.
Happy New Year! Need some help with your communications resolutions? Give us a holler.